Linebacker Drill Compilation - Football Blocking Pad
Football Supplies to Increase Gap Control Performance against the Offensive Line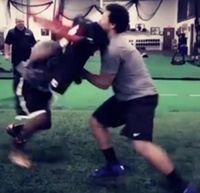 Punch, pad level, violent rip. Punch, pad level, executing a release move at a specific target. Taking on the block violently. Proper pad level, punch, release, extension, finish: this allows linebackers to do multi-step drills with change of directions, specific targets, and execution and finish, year round without the risk of injury that comes with padded man on man practice.
Use The Colt when practicing pass rushing, blocking shielding and rip moves. The patented, next generation technology allows full speed reps in every practice. Transform the outcome of your team's field performance by utilizing the football blocking pad to beat double teams and enhance gap control. The durable training equipment is built to withstand hits and blasts at every angle, and guaranteed to last. Maneuver using bull rush and speed rush against the offensive lineman and full backs to absorb the play of the game correctly. With our 2-year warranty, this football blocking pad with arms will improve your next football season.
Pass Rushing and Blitzing Drills for Linebackers Enhance Pursuit Skills
Perhaps nothing is more important in neutralizing an opponent's passing game than getting after the quarterback. Playcallers design numerous creative blitz packages to get the jump on the quarterback and disrupt his throwing motion.
In order for linebackers to successfully execute a blitz, he must develop the proper block shedding technique at full speeds to ingrain the muscle memory necessary to translate into the real game.
A blitz progression drill is perfect for linebackers looking to form a well-rounded base of skills for navigating through linemen and breaking up a play before it even begins. Krausko blocking pads allow players to practice at full speed and simulate the real game environment. When your linebackers train with our football blocking pads, you put them in position to bust through the line on blitzes and come up with huge tackles for a loss and sacks.
Linebacker Drills Utilizing Krausko Training Gear Help You Stop the Run
A linebacker's responsibility in the run game is to stuff the holes left between outnumbered defensive linemen. Linebackers must keep a keen eye on the ball at all times, monitoring the ball carrier while simultaneously engaging in a one-on-one battle with a blocker. The last thing a linebacker needs is to be worrying about his technique as he tries to negotiate so many things at once.
Bad technique leads to ineffective play and drive-killing penalties. Krausko training equipment minimizes both by providing coaches with a hand-held mobile blocking pad, realistically simulating a real blocker. No football player is standing still in the field of play. Why would you practice like they are?
A linebacker shed and scrape drill effectively teaches block shedding, lateral movement, closing angles and tackling technique using training pads from Krausko Sports. Linebackers learn proper hand placement while swatting away arms and shedding a block while keeping an eye on the ball carrier upfield.
Football Blocking Pads Help Linebackers Learn Zone Coverage Pass Breakup Technique
Linebackers are being asked on an increasing level to provide help in coverage as modern offenses continue to lean on the passing game. Tight ends and slot receivers can be a matchup nightmare for outside linebackers. While they may not be able to keep up in straight man-to-man coverage for very long, they can still build skills reading the QB and closing in on a pass deflection.
A linebacker coverage drill using Krausko training equipment gets linebackers in the habit of tracking the QB's eyes and making a confident break on a passed ball. The arms at the point of catch are everything. This linebacker drill teaches LBs to break quickly on a pass and swat away the receiver's arms before they can earn possession.
Krausko football blocking dummies allow linebackers to disrupt the pass at full speed with no reservations, allowing for full contact and full speed with no pads. LBs ingrain the muscle memory necessary to dominate on gameday.
Youth Training Equipment for Every Position: Punch, Finish, Pad Level
Krausko football practice dummies can be used to help train inside linebackers how to shed blocks and get after the running back. View drill demos for outside linebackers and see how our youth blocking pads with arms help players develop pass rush and coverage skills, encouraging defenders to stay low, drive, rip and swim around blockers' arms and finish strong.
Practice Safer. Practice Better.
By learning the proper technique at an early age at youth levels, pee wee and junior league players are ingrained with muscle memory necessary to excel at more advanced levels. The right fundamentals come instinctually, and coaches can focus on training them in a more narrow focus and take it to the next level. Check out The Youth Colt football blocking pad for your youth squad and get them on track toward becoming fundamentally sound, safe players today.
Buy our football blocking pads to implement better coordination and reps in your team now.