Best Football Equipment for Youth and Adults: Introducing The Colt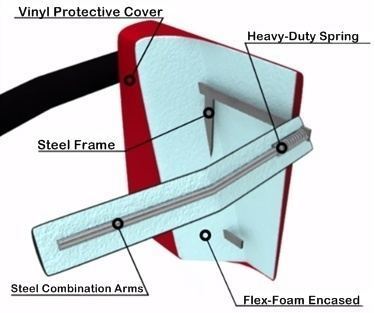 The Training Accessory every Coach Needs for Better Practice and Better Gameday Performance
Technology is changing football just like it's changing everything else. In today's football world, the special technological emphasis is on safety.
The Youth and Adult "Colt" Blocking Pad Combines Football Safety and High Technology
The emphasis on safety is seen at all levels – youth, high school, college and pros. Helmet design, updated shoulder pads, new concepts for shoes. Everything is under the technological microscope. The future of football will be one of increased speed, creative play-calling on both sides of the line…and more physical safety.
The technological attention being paid to safety during the actual games is gratifying. However, more of a safety emphasis during practice is needed. Players spend far more time on the practice field than the game field. Training injuries hurt just as much. If technological influence is going to transform football safety, it will need to turn its eyes to practice sessions.
For Youth and Adults Krausko stands tall as the technological leader in safer football practice equipment
Krausko, LLC, a Wisconsin based football equipment manufacturer, has taken up the challenge, developing a new generation of football blocking pads and training equipment. Developed and implemented in state (high school) and national (college) championship level programs, these pads are available in both adult and youth models. Player safety can now be improved at all age levels. The company's new products are already having a powerful effect, increasing training effectiveness as well as player safety.
The company's technologically advanced football practice equipment makes teaching players safer, easier and more effective.
"Recognizing the demand for better football equipment and the inadequacies of the old means of practicing game-like situations, we began prototyping a revolutionary piece of equipment to simulate dominating the opponent at real game speeds," said Pay Crowley, co-owner. "Years of playing and coaching along with extensive feedback from championship caliber coaches led us to developing the first realistic football shields."
"The Colt" Football Blocking Pad With Arms: Because Muscle Memory Doesn't Train at Half Speed
Krausko's latest breakthrough is "The Colt," a non-stationary football blocking pad with arms allowing players to move at full-speed while minimizing the risk of injury. It is designed to duplicate realistic in-game practice tempos to promote fundamentally sound play. Players not only learn proper techniques but also develop the muscle memory needed to perform at maximum levels during games.
"Proper technique decides games by reducing penalties and developing the violence arms and better footwork necessary to help players win their individual matchups," Crowley said.
Now in full-scale production and used by champion coaches and players, the "Colt" has surged to the cutting edge of development of new football training equipment.
Vince Lombardi said, "Practice does not make perfect. Only perfect practice makes perfect."
A key advantage for the "Colt" from Krausko LLC is it creates actual game-day conditions at game-day speed. Opposing players never stand still or allow themselves to be pushed around like a traditional blocking sled. Coaches can use the "Colt" blocking pad to teach players the best ways to block mobile opposing players.
Better Practice Equipment for all Levels: From Pee-Wee Youth, to Junior High School, College and Adult
Each blocking situation is different because each play is different. Unique instruction is needed to prepare for each team. Coaches can use the "Colt" to duplicate all types of offensive and defensive situations. Constant repetition with minimized risk of injury is the key to developing proper muscle memory over the course of a season.
Training continues off-season with committed players using the "Colt" to perfect their blocking techniques. It also doubles as an effective training tool for basketball teams.
In today's high-tech world, Krausko is helping football training catch up to today's technology with the "Colt."