Football Shields: Safe. Muscle Memory. REAL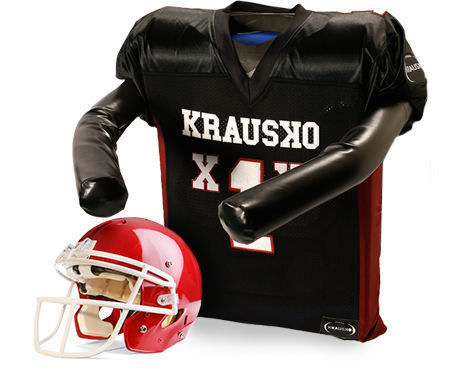 Krausko technologically advanced football practice equipment makes teaching your players the game we love a whole lot easier. Plain and simple. Recognizing the demand for better football equipment and the inadequacies of the old means of practicing game-like situations, we began prototyping a revolutionary piece of equipment to simulate dominating the opponent at real game speeds. Years of playing and coaching along with extensive feedback from championship caliber coaches led us to developing the first REALISTIC football shields.
The Colt™ is a non-stationary football blocking pad with arms allowing players to move at full-speed while minimizing the risk of injury. There's no debating, realistic in-game practice tempos promote fundamentally sound play. Proper technique decides games by reducing penalties and developing the hand-fighting and footwork to help players win their individual matchups. Now in full-scale production and used by state and national champion coaches and players at the high school and college level, our product is becoming the new norm in football training equipment.
3 seconds left, 4th and goal from the two. Your running back plunges over the goal line to take the lead. Flag on the field. Holding. Game over.
Football Practice Equipment For Hands-On, Full-Speed Work
Utilizing innovative knowledge, while grasping what today's players are lacking, led us to creating an extremely unique and REAL replication of game tempos. The perfect application for in-season, pre-season and off-season work, this revolutionary product completely transforms each athlete's training regimen.
Bad leverage and poor technique on the lines destroy your chances of winning. Blocking and block-shedding drills on outdated football shields train player muscle memory incorrectly. Getting inside leverage can be just as vital as keeping pad level down when it comes to winning your individual match-up. This is why The Colt has been created with life-like arms. This innovation to football blocking pads continues your players' improvement with resistance, simulated player movement and a game-speed moving target to practice gaining an advantage on your opponent.
Offensive Line Training Equipment for Winning Fundamentals: "The Muzzle®" Drills in 'Hands-in, Thumbs-up'
Our innovative Muzzle® training equipment utilizes magnetic technology to force the player's default position to be hands in, thumbs up. Using the Muzzle® at full-speed provides a realistic simulation of in-game situations and trains the offensive line players' hands to beat defensive lineman in the leverage game, determining the outcome of matchups, plays, drives and games. It also dictates the movement of their feet by not being able to hold the opposing player; creating improved technique and footwork.
The Recipe for Success Has Arrived
Developed and implemented in prototypes in 2012, our state-of-the-art equipment is essential for every team in search of safer, better practice equipment to dominate your competition. Improving footwork, muscle memory and practice speeds WILL help your players perform on game day.