Defensive Line Drill Compilation - Football Blocking Pad
Football Blocking Pads to Dominate Your Opponent in a One-on-One Level Battle
In this defensive line drill, we're trying to crush the level of the opponent with violent hands and multiple repetitions. The Colt blocking pad allows you to do this and also gives the defensive lineman spatial awareness and helps train him to get off the block. In our 6-point explosion drill, you can see that the defensive end or defensive tackle has the natural target right in front of him and he can violently explode and strike through into the gap. This is also a drill that you'll be able to use year-round with your players without the risk of injury. Bad technique really stands out to a coach when you notice it at full speed.
In our next drill, you can see how the player has targets to focus on and strike and use optimum aggression through the entire drill. It's safe, you can extenuate the violent hand-to-hand contact without the risk of injury. This is also a drill you'd be able to use in your off-season conditioning program. Notice the absolute violence that a player can execute through the entire drill while maintaining proper pad level. Using our football blocking pad with arms you can strike and practice proper technique at full-speed without the risk of injury.
Why choose The Colt? Check out our comparison chart to find out why our football blocking shield beats the rest.
Ensure maximum practice realism by adding the Target Jersey Upgrade when you order The Colt.
Defensive Lineman Drills – In-season and Offseason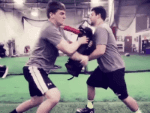 When a running back or fullback drops back for pass protection, defensive linemen may need to fight through multiple levels to get after the quarterback. The multi-weapon fight drill for D linemen lets players practice at full speed and put together effective fundamental combinations of moves to get to the backfield quickly.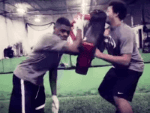 Perhaps the most important moment in any single play for linemen on either side of the ball is the instant the ball is snapped. O linemen jump to get in position and defensive linemen shoot forward to get in the right position to evade or charge through pass blockers. The hand placement drill teaches D linemen how to win the position battle right off the snap.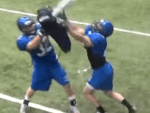 Defensive linemen who can blow up a play for a tackle for loss are invaluable. Drives can be stifled with a single exceptional play. Shedding an early block and executing a form tackle on a running back can turn a game around. The block shedding drill utilizing the Krausko Colt blocking pad gives defensive linemen full speed reps bursting through blocks and making game-changing stops.
Intensify football drills with the Colt, our specially designed football equipment. Manufactured to surge your pass rush performance with complete spatial awareness and gap control. Implement the muscle memory increasing football blocking pad in explosion drills to associate proper footwork.
Significantly transform the outcome of tackling drills. Beat the blocks of the offensive line/fullback and defeat the double team with quick feet. Practicing a bull rush will never be the same with the extremely durable and mobile blocking shield. Incorporate this muscle memory to use rip moves and speed rushes to while staying low to win your individual matchups.
Football Training Equipment for Better Practice Drills
Football Defense isn't as spectacular as the offense, but it's just as exciting and as much a key to winning. Since many of a team's better athletes are often in offensive skill positions, proper teaching is even more important to develop proper techniques while conducting safe drills during practices. "The Colt" Shield from Krausko Sports is an essential tool for coaches to use in teaching effective, strong defensive moves.
Defensive linemen must constantly move, effectively using hands and feet while keeping the heads upright to see the backfield. Using training gear like "The Colt" lets coaches observe all of these elements, teaching them at game-day speed -- as often as needed -- for the player to perfect the moves.
With or without pads, "The Colt" enables teaching which results in greater player skill and confidence, better health and physical condition for game day, and more effective development of speed and strength to deal with game situations. Muscle memory is key. Game-speed drills develop it, and can be done in-season and off-season.
Because "The Colt" has extended arms, players learn how to aggressively counteroffensive blocking moves. The key is separation. Defensive linemen need to get free of the blocker to reach the runner or passer. By aggressively using "The Colt" Shield, coaches can drill players to quickly gain the separation needed to prevent big-yardage plays.
Defensive Lineman Hand Drills
Nothing draws more penalties than defensive holding. Referees always watch for it. Holding draws the most penalty flags, especially when players are younger. Coaches can use training equipment like "The Colt" Shield from Krausko Sports to make sure their players know and can apply proper hand technique. "The Colt" Shield has extended arms to simulate game situations. Defensive linemen develop the hand skills needed to legally neutralize offensive linemen and blocking backs. Many repetitions of hand drills can cause injuries. "The Colt" Shield not only keeps practices as injury-free as possible but also develops greater hand quickness and strength. This makes proper hand technique much more effective when game day rolls around.
Help make "illegal use of hands" a whole lot less likely with "The Colt" Shield from Krausko Sports.
D Line Agility Drills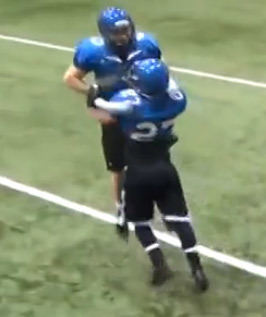 The trend in many college football programs is toward smaller, quicker defensive linemen. High School coaches confront this reality every season. To overcome a larger and stronger offensive lineman, your player must have off-setting speed and agility. These skills can be effectively and safely developed. In-season or off-season. With or without pads. Anytime and every time.
"The Colt" Shield can be used in a wide variety of ways, limited only by the Coach's imagination and creativity. Moving inside or outside to get past a block. Punching one way or the other to get past the blocker to reach the quarterback. Shedding the block to make the tackle. All of these essential defensive moves are greatly improve with greater agility. Teach it so they will learn it, remember it and apply it. Use "The Colt" Shield from Krausko Sports.
Players participating in the multi-weapon fight drill instill proper block shedding techniques by repeating high-intensity reps weaving between two defenders holding Krausko blocking pads. Pass rushers must negotiate offensive linemen's subtle footwork and arm resistance to win the matchup and get after the quarterback. The multi-weapon fight drill teaches multiple vital block shedding techniques, and trains players to continue to fight through blockers until the whistle blows.
Keep their interest and morale higher with "The Colt" Shield from Krausko Sports. It's a realistic, safe piece of youth football training equipment that allows for drills to be conducted with many repetitions with less danger of injury. "The Colt" is not physically draining, so younger players actually enjoy the drills, learning more quickly and applying the lessons sooner and better. This is vital to keep the interest and commitment of younger players at the highest possible level.
Practice Safer. Practice Better.
Youth players must understand individual battles are won and lost immediately post-snap. Whoever is quicker off the ball is much more likely to win the matchup and determine the outcome of the play. A simple hand placement drill utilizing The Colt or Colt Pro blocking pads teaches young defensive linemen to win the inside or half-a-man position right after the snap to put offensive linemen on their heels. The blocking pad gives instant feedback on improper technique, no matter the position. Condition your linemen to get in the right position every time, and your team will win in the trenches.
Since every player on the team can be trained to be more effective with "The Colt," your team will achieve great cohesion and mutual support. As skills develop, players will have a greater appreciation for each other and a greater sense of each player's personal responsibility for team success.
Defensive Line Drills Against The Run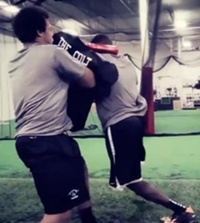 Most gains in yardage are actually made more by offensive blocking than by running skill. Offset the block and your team can stop the run. "The Colt" Shield from Krausko Sports is more than just a football blocking pad. It's a flexible, practical and safe piece of football training equipment to teach hand fighting and shedding a block.
Proper positioning of feet can be repeated during drills so linemen keep good balance while applying maximum effort to reach the running back. Tackling the running back, especially in the open field, demands correct foot positioning, proper balance and quickness. All of these skills can be safely and effectively taught using "The Colt" Shield. Coaches can also use "The Colt" Shield to observe the defensive player's head, teaching him to keep his eyes on the running back to set up the tackle.
Coaches use the block shedding drill with tackle follow-through to instruct linemen and linebackers how to blow up the opponent's running game. Defenders must shed an initial block, then accelerate and perform proper tackling form on a mobile target (without a takedown). Like every other drill using The Colt blocking pads, the drill can be performed at full speed with or without pads.
Sufficient repetition is needed during drills so the right move is made during the game. Doing the right thing has to be so quick it is almost instinctive. "The Colt" Shield lets the coach create game-speed conditions during practice to give the player every advantage to make the right move at the right time during the game.
A football game is for real. Make your practices as real as possible with The Colt" from Krausko Sports.
Defensive Line Drills vs. The Pass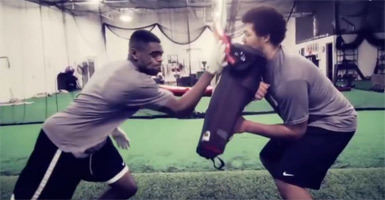 Agility, power and quickness are the keys to a solid pass rush. Body position is also essential. "The Colt" Shield from Krausko Sports is your easy, safe football training equipment to help your players more strongly develop these football moves.
Teaching pass rush techniques doesn't have to exhaust your team. Rushing the passer is hard enough. "The Colt" Shield allows players to learn how to shed blockers, bull rush offensive linemen, execute a rip move – all without submitting the team to an inordinate amount of wear and tear. What good is developing a good pass rush if the players are too tired to carry it out on game day?
Using "The Colt" Shield enables the coach to teach Solid pass rushing techniques with or without pads. Training mishaps are much less likely. This is very important when coaching younger players or teams without a strong bench.
Big success is often the result of doing many small things well. "The Colt" Shield lets coaches effectively teach a multitude of small defensive skills against a passing team. The result will be much greater overall success. And many more big victories!
Buy football blocking pads to increase muscle memory and technique with full speed drills.