Football Blocking Arm Pads for Defensive Line Drills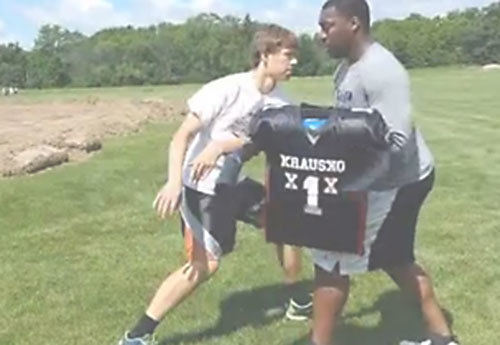 Defensive Line Equipment for the Edge Your Players Need
Football is a game of margins. The ability to exploit the smallest advantages is often the difference between a first down and a punt. Collectively, those margins are what determines who wins and who loses. Exploitable advantages exist both at the strategic level as well as the one-on-one matchups your players must win to succeed. The best way to drill game-speed muscle memory is through game speed practices.
There are only so many live drills you can run before you expose your players to an unacceptable risk of injury or fatigue which undermines the advantages of the extra work. Traditional football blocking shields help your players avoid practice injuries, but are limited by their lack of realism.
Gauntlet-style scrimmage shields and arm pads still expose your players to unnecessary repetitive stress injuries to their shoulders and elbow joints.
Krausko's football blocking arm pads are the answer. Our blocking shields are designed to keep your players safe, provide the mobility to use in game-speed drills, and have smartly-engineered aluminum arms which simulate human contact.
The Colt football blocking arm pads are the defensive line equipment of choice for major NCAA football programs including Michigan State, Notre Dame and the Wisconsin Badgers.
Tested and Recommended by NCAA and Pro Trainers, Coaches and Players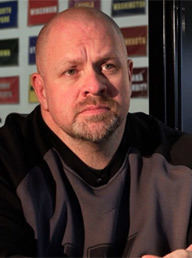 Michigan State Spartans defensive line coach Ron Burton says because of The Colt football blocking pad with arms, his players "don't feel like they need to hesitate" and practice at game speed even when just in shells.
Brad Arnett is the owner and head trainer at NX Level Athletics. His clients include former Badgers NFL players like JJ Watt of the Houston Texans, Joe Thomas of the Cleveland Browns, DeAndre Levy of the Detroit Lions and Chris Maragos of the Philadelphia Eagles. He has trained athletes across multiple disciplines, from pro basketball and baseball players to pro golfers and Olympic gold medalists.
Coach Arnett says The Colt football blocking arm with pads is ideal equipment for defensive linemen and linebackers to learn how to defeat blockers at game speeds. Oakland Raiders defensive lineman Shelby Harris recently showed some Wisconsin high school football prospects how to properly use The Colt in defensive line pass rush drills to develop hand violence and leverage.
The Best Football Blocking Arm Pads on the Market
The Colt football blocking pad with arms is built to survive practice after practice, season after season. Your players will practice better, and the results will show up on gameday.
Coaches have successfully incorporated The Colt into football practice drills for nearly every position except quarterback, punter and kicker.
Give your players every advantage and help them dominate their individual matchups with football practice training gear from Krausko.