Football Practice Equipment for Youth Ages 6-13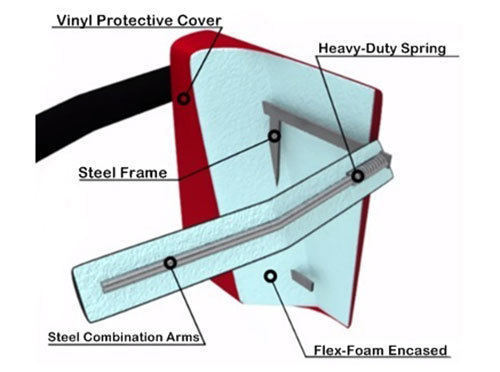 Youth Football Blocking Pads Help Pee Wee Players Develop Into Healthy Professionals
Tackle football is a physical game. Professionals consistently exposed to violence experience wear and tear on the body and mind. In recent years, the football industry has taken steps to address problems associated with concussions and other long-term injuries resulting in mental and physical damage later in life.
The emphasis placed on safety and limiting injury risk in all levels of professional football has shifted the focus to the development of fundamental techniques at youth levels. The Pop Warner football program divides youth players between the ages of 6-13 into the following categories, placed in each based on their age and physical development:
Youth Tackle Football Programs - Ages and Weights

Tiny Mite
Mitey Mite
Jr. Pee Wee
Pee Wee
Jr. Varsity
Varsity
Unlimited
Age

Tiny Mite

5, 6, 7

Mitey Mite

7, 8, 9

JR. Pee Wee

8, 9, 10, 11

Pee Wee

9, 10, 11, 12

Jr. Varsity

10, 11, 12, 13

Varsity

12, 13, 14, 15

Unlimited

11, 12, 13, 14
Weight

Tiny Mite

35-75 lbs

Mitey Mite

45-100 lbs

Jr. Pee Wee

60-115 lbs

Pee Wee

75-130 lbs

Jr. Varsity

90-155 lbs

Varsity

105-180 lbs

Unlimited

105 lbs min.
Flag Football Divisions - Ages and Weights

Cat
Cub
Bobcat
Wildcat
Panther
Challenger
Age

Cat

5, 6

Cub

5, 6, 7

Bobcat

8, 9, 10

Wildcat

11, 12, 13

Panther

14, 15, 16

Challenger

5 - 18
While football is a violent sport and injury is a necessary and inevitable risk, many debilitating injuries can be avoided if the proper technique is used. Several chronic injuries, particularly related to the neck and spine, can be avoided if players avoid are trained with the proper tackling technique.
The Krausko youth football blocking pads are a key element in developing correct fundamentals at an early age. Young players learn solid blocking technique and instill the right muscle memory by practicing at full-speed to simulate the violence of the real game. With the proper training using The Youth Colt football practice shield, young football players ascend the youth levels learning the fundamentals necessary to minimize injury risk and become better players.
Practice Safer. Practice Better.
Tiny Mites and Mighty Mites Learn Proper Fundamentals at the U8 and U10 levels with Krausko Practice Shield
Children as young as five years old may begin to play organized tackle football. At the pee wee level (ages 5-8), youths are introduced to basic football concepts such as tackling, running with the ball and basics of the game like downs, points and penalties. Of course, a few things are scaled down for very young players. The football is much smaller and the field is only 80 yards long. Pee wee football players at the U6 (under 6) or U8 (under 8) are trained in the following technical skills:
2 and 3 point stance
Direct snap
Passing grip
Ball security
Making a handoff
Rusher and DB stance
Coaches engage pee wee players in simple drills like "Simon Shows." In this drill, the coach holds a football out in front of the players and moves it right, left, toward and away from the chest. Players must move with the ball and react to the direction the coach moves it. This drill trains players to always pay attention to the ball and keep their eyes forward to read the action. Other drills instill basic training in exploding off the snap and learning to be comfortable playing full contact at full speed.
Krausko's football training equipment can help young players learn correct blocking and tackling at the very earliest level and instill proper muscle memory at full speed. Pee wee players learn the right way to make contact with others to play as safely as possible and prepare for more advanced concepts at higher levels.
Football Practice Equipment Develops Advanced Technique at Junior Pee Wee Level
From ages 7-10, depending on every individual child's physical traits, youths either refine their skills at the Tiny or Mitey-mite level or graduate into the junior pee wee level. At the junior level, the field stretches out to the full 100 yards, seasons last a few weeks longer and coaches begin to ramp up the practice intensity as players become more physically capable of handling the workload.
Young players at first and second-grade levels begin to learn more formations and begin to incorporate special teams into real game action, such as kicking, punting and the return game. Pee Wee players growing into the U10 and even U12 levels learn more advanced football concepts beyond the basics of the game. These skills are more subjective in nature, such as differentiating between ability and effort, confidence, accountability and problem-solving.
However, the physical basics of the game remain a priority. Coaches put an emphasis on continuing the training of basic fundamental physical movements to instill effective muscle memory. The Youth Colt practice shield, featuring adjustable pad height and high durability, follows pee wee players through the ranks to help retain and refine perfect and safe blocking technique for lineman, backs and receivers alike.
Advanced Pee Wee and Junior Football Players Benefit from Youth Blocking Gear
Once youth players perfect the basics of the game and begin to grow into the 80-130 pound range between the ages of 9-12, they advance to the upper levels of Pee Wee. The speed of the game increases dramatically. Young players must refine their physical skills and develop the proper techniques to keep up with a fast improving opposition. As formations and game situations become more complicated, young players must develop physical and mental skills such as:
Multi-directional speed
Footwork
Leadership abilities
Self-confidence and commitment to action
Foresight and game awareness
As youth players progress through their adolescence, growth spurts play a key role in how players advance physically through the upper pee wee levels and into the Varsity level. However, smaller players for their age level can still be effective and win their individual battles if they learn the right way to play the game using the right practice equipment.
Players continue to develop core skills in blocking and tackling with continuous repetition. The Youth Colt football blocking pad plays an essential role in helping pee wee players to continue to emphasize the correct processes and movements. In a real game, nobody stands still. Everyone is constantly in motion. Practicing on a static dummy does nothing to prepare young kids for game action. The Youth Colt allows players to practice on moving players at full-speed, preparing them for the real thing and helping teams to win more games.
Youth Football Training Equipment Instills Full-Speed Muscle Memory at Jr. Varsity and Varsity Levels
Graduation from the Pee Wee level into the Junior Varsity and Varsity levels represent the final big transition in the Pop Warner youth football program. From ages 10-13 for youth football players weighing 95-180 pounds, the Varsity level denotes the final developmental level before moving on to high school football.
The game is expanded on all levels. Players participate in more field goals, passing plays and learn more advanced defensive formations. Youth football players at the U12 and U14 levels begin to establish performance routines and learn important mental concepts such as self-discipline and self-reliance. As quarterbacks grow and game speed increases, the passing game increases in use. Offensive lineman must learn to pass block effectively to keep competitive. Krausko youth blocking pads are perfect for teaching proper hand placement and half-a-man technique to keep pass rushers from the quarterback.
As offensive playbooks continue to grow, wide receivers and backs begin to learn how to block and break cover. The Youth Colt football training pad can be used to train young skill players essential techniques in blocking and engaging defenders so they evolve into well-rounded players so highly valued at the upper professional levels. No other blocking pads on the market provide such comprehensive training for as low of a price.
Pee Wee Youth Players Grow Into Professionals Using Versatile Football Blocking Pads
As pee wee players ascend the ranks of youth football programs, they are continually asked to retain proper fundamentals and increase their skillsets. The Krausko training program is there every step of the way to ensure youth football players are practicing and executing safe blocking and tackling techniques.
From conditioning 5 and 6 year old children to fearlessly make contact correctly to teaching 13-year-olds to shed blocks, The Youth Colt blocking pad is used across all levels of youth football to hone skills and develop confident players who learn how to play safely at full speed and win their individual matchups.
The future of football rests in the hands of coaches at the youth level who are charged with the task of instilling the proper training methods to minimize the risk of injury in the short and long term. Equipping your pee wee team with the best football training equipment on the market today keeps your players as safe as possible and practicing winning techniques.
Trust in the Krausko training program, and your youth team will stay healthy and win more games.
Contact our football blocking pad experts and learn more about how our training equipment teaches proper technique.