The Best Football Blocking Man Shield for Player Development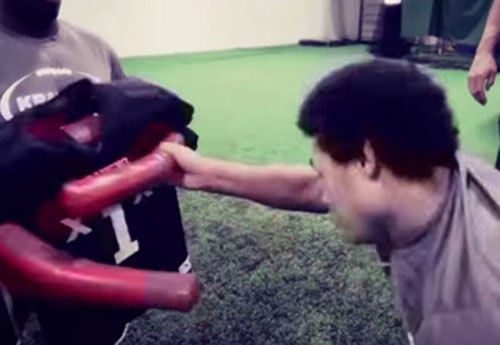 The Colt Football Blocking Man Shield with Arms Improves Player Safety and Technique
A football team will only play as well as it practices. Coaching a successful football team means knowing how hard you can push your players in practice without risking unnecessary injuries or fatigue. Many practice tools have been developed over the years which help, but none of them achieve all three of the most important attributes of football practice gear: improve player safety, help players practice longer, and at game speed.
The only way to build muscle memory for the speed of the game is by practicing at the speed of the game.
Traditional football blocking man shields would appear to achieve this by providing a mobile blocking surface. It's true these are the best pieces of equipment for training at game speed, as long as you're playing against teams without arms.
The Colt by Krausko is the first football blocking man shield with arms smartly engineered to react like an opposing player.
Designed with padded aluminum arms secured by a heavy-duty spring hinge, The Colt intuitively teaches your players the importance of inside leverage. The arms will automatically snap back into place, just like a human opponent. Krausko football practice equipment is durability-tested to last practice after practice, season after season.
The durable vinyl protective cover and flex foam padding mean The Colt is appropriate for game-speed drills regardless of practice type: full pads, shells or shirts and shorts.
Improve Football Drills at Nearly Every Position
The Colt is designed to be integrated into your existing practice regimen. Nearly every position outside of quarterback, kicker and punter will benefit from football practice drills incorporating The Colt. It's the perfect offensive and defensive line equipment for battling in the trenches.
Linebacker coaches will be able to run full-speed scraping and block shedding drills while improving practice safety and quality.
Use live running back blocking drills to turn your fullbacks and tailbacks into pass pro and lead blocking machines without wearing out your linebackers and safeties.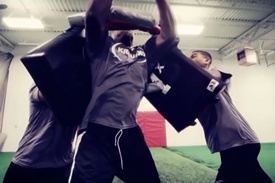 Even wide receivers and defensive backs will see improvement in their hand fighting and inside/outside leverage and release techniques by going full-speed on The Colt football blocking man shield with arms.
Krausko's football training equipment was designed by coaches for coaches using simple, intuitive ideas to solve the issues we encountered while training our own football players. Football coaches around the country, from high school to major NCAA football programs, are improving their player development with training equipment from Krausko.
Call us today to find out how to improve your football team with the best football blocking man shields on the market.