Your Youth Football Equipment List Needs to Factor in These 3 Safety Myths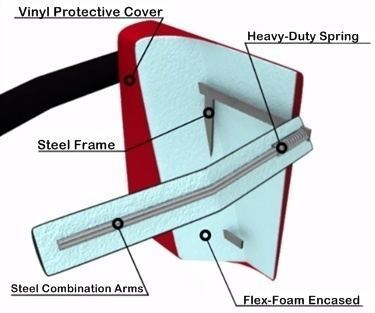 Effective practice has two goals: get better and stay healthy. Getting better has 2 components:
1. Physical fitness
2. Mental sharpness
Shop The Colt
Your kids need more than sweat to become better football players. Better bodies means strength, conditioning and keeping your team healthy. Better minds means knowing assignments and properly trained muscle memory for winning individual matchups.
Invest your team's equipment budget in winning more games.
Every coach should take these three myths into consideration when developing their football equipment list:
Myth 1: Full-Pads scrimmaging is the only way to improve Pee-Wee players.
Replicating game intensity in every helmeted full-pads practices wears down a team over the course of a season. Injuries and normal wear and tear (beyond just soreness), can sink your chances of winning.
The other issue is reality: practicing all the time at 100% game intensity simply doesn't happen. Football is an inherently violent game. Some of your players won't go
to war with a teammate, opting instead for unspoken peace treaties. It's hard to blame them - a brutal forearm rip to clear hands from pads leaves bruises.
Reality: Full-pads practice has huge hurdles to overcome.
Life aint like a Rudy movie. A smart coach will use a variety of tools to improve his young players in body, mind and work ethic.
Myth 2: Real practice equipment is just for the big boys.
"The Colt" has made its way up into the highest tier of football, purchased by professional teams and in regular use by national celebrity defensive lineman and linebackers. The early Colt prototypes were developed and tested initially to coach high school and junior high youth football players, then improved for the pros by a team of engineers and coaches.
Reality: At all levels, muscle memory does NOT train at half-speed.
"The Colt" helps players at all levels by allowing them to train at full speeds without the risk of injury of a full-pads practice.
Shop The Youth Colt
Myth 3: Looking good in expensive uniforms is better than your team winning more games.
The most common misallocation of a team's budget is expensive football uniforms and apparel. Custom uniforms from companies like Nike and Under Armour can cost a high school program thousands, especially when you start factoring in winter gear and rain wear packages. The average cost of football uniforms often leads teams to spend more time fundraising and seeking grants. This time would be better spent practicing.
Reality: Nothing looks better on a team than a winning record.
Apparel doesn't make kids play better football. Reduce uniform costs by looking for clearance and wholesale uniforms in bulk, then focus on teaching your kids the value of working hard and competing smart.
Shop The Colt
Revolutionary Blocking Pad with Arms "The Colt" – from Pee-Wee to The League
From Pop Warner Pee-Wee, to middle school junior flag football, to high schools, to division 1 colleges and to the absolute highest tier of professional football, The Colt is sweeping the nation. Whether you are training fledgling pre-high school teens or working to improve a major college program, the Colt is the only blocking equipment of it's kind on the market today.
The Colt simply makes teams better, allowing them to train muscle memory while working at game-tempos, improving agility,

speed, blocking and tackling. The Colt was developed by real coaches with feedback from players, equipment managers, and athletic directors. No piece of protective practice equipment offers the versatility and value of our football blocking pad with arms.
Not Just for Offensive and Defensive Lineman
Backs, tight ends, linebackers, receivers and corners all benefit from drills training them to get the proper hand placement to win their individual matchup. The Colt is a competitive advantage for use in practice -- with or without helmets and pads.
The Colt is available in any quantity to coaches, sporting goods stores, and online suppliers. Contact Krausko football equipment for more details.