Don't Discount the Value of Quality Football Blocking Pads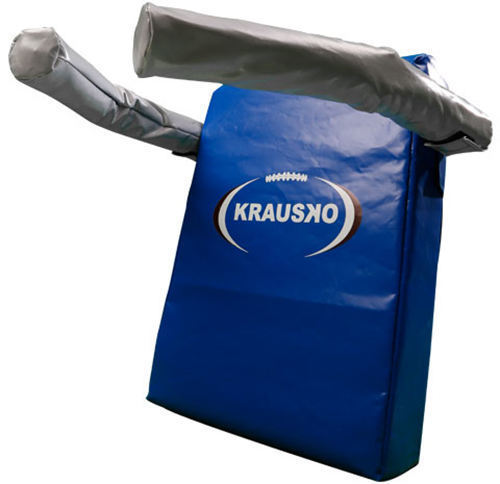 You Get What You Pay for with Cheap Football Practice Equipment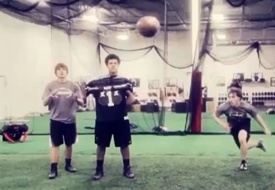 All good football coaches have at least one thing in common: they know how to get the most out of their players. A good coach won't judge a player simply because he is too small or lacks a specific physical attribute, and the most successful coaches have a track record of developing these players into important contributors.
Unfortunately, the same attitude can lead to coaches deciding used or cheap practice gear is "good enough" to get the most out of player development.
Limited budgets and belt-tightening by athletic departments and boosters means coaches are expected to keep equipment in service beyond its useful life. In the interest of short-term cost controls, replacements are often sourced from second-hand shops or bargain-basement retailers like Walmart.
It's not surprising short-term measures closely correlate with short-sighted strategy.
Choose Durable Value over Cheap or Used Football Blocking Shields
Krausko football practice gear is Made in the USA and built to outlast the competition. The Colt football blocking pad with arms is virtually indestructible under normal practice conditions, even at the highest level of competition. Major college football programs--including Michigan, Michigan State, Notre Dame and Wisconsin--use The Colt to fuel dominant offensive and defensive lines.
Even under the rigors of daily practice against some of the strongest, most athletic linemen in college football, The Colt holds up week after week, season after season.
An investment in the best football equipment will pay off in both improved player technique and development, along with reducing the long-term costs of replacing worn-out or broken "discount" practice gear. To further secure your investment, every Krausko product comes with a 2-year full replacement warranty.
Perfect Practice Prevents Injuries
Every coach knows most football injuries are caused by a breakdown in fundamentals. Perfect technique come from perfect practice. Perfect practice is enhanced by the right tools. Most football programs employ a wide range of practice gear, from blocking shields and sleds to standing dummies, but no other piece of equipment matches the versatility and functionality of The Colt football blocking pad with arms.
Compare the cost and versatility of The Colt with Target Jersey and Pads Upgrade to other single-purpose practice equipment.
When you adopt The Colt into your team's practice routine, you'll find yourself using other equipment less and incorporating The Colt more. Originally designed for offensive and defensive lineman training, creative position coaches have devised football practice drills for nearly every position outside of QB and K/P.
Offensive Line Practice Equipment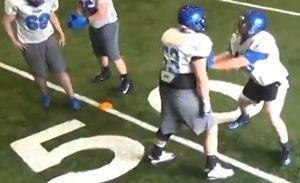 Hand placement and footwork for offensive lineman is the most important factor influencing good blocking, but it is also the most difficult thing to teach young players. Players who have always relied on their size to overwhelm smaller opponents when they were younger can struggle as they get older and the size advantage diminishes.
Years of football research and experience have taught us the "hands in, thumbs up" approach maximizes an offensive lineman's strength and greatly reduces the likelihood of holding penalties. The technique also promotes good footwork to prevent reaching, the leading cause of penalties for offensive linemen.
Building upon this principle, Krausko developed The Muzzle® offensive line training gloves.
The Muzzle is a unique piece of practice equipment which restricts a lineman's hands, forcing him to focus on footwork and proper punch technique. The gloves are connected by a strong magnet. The magnet makes it difficult to pull directly apart, preventing reaching. However, the magnets separate easily with the same strong shear motion you are already drilling into your players.
Use the Football Training Tools the Pros Use
Strength coach Brad Arnett owns NX Level Athletics and is the personal trainer for several NFL players, including former Badgers DeAndre Levy, Joe Thomas and 2012 NFL Defensive Player of the Year JJ Watt. Coach Arnett uses The Colt as part of his football training regimen because it allows players to train at full-speed, even without wearing pads.
"It's about being able to get… consistent reps over and over again [without the player getting] beat up," Arnett says.
"[The Colt is] a huge asset in getting what you're teaching them from a physical development standpoint… and letting them work and use it."
There is no better value in new football practice equipment than The Colt. The Colt is easily incorporated into the drills you are already running, but the added dimension of responsive, realistic arms will change how your team practices forever.
The Colt can be used to practice at full-speed with or without pads, making it a safe and efficient year-round training tool. You will see a positive difference in how your team plays.
Call or e-mail Krausko, LLC for information about football blocking pad discounts on bulk orders.